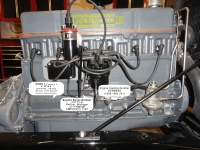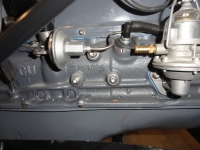 The Casting Numbers to the right are found just below and to the right of the Distributor on the passenger side. They are notoriously very hard to read and often people make the mistake of thinking a '3' is an '8'. Clean the area thoroughly and use a nice bright flashlight. This is usually a 7 digit number and each letter/number is about 1/2" tall. A little engine degreaser and a wire brush often makes this job easier.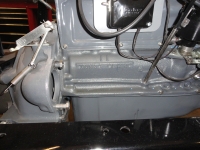 The next numbers we need are the ones just below the Starter on the passenger side. This one will have a CONveyor Number and beside that a usually four digit letter/number combination separated like this: X XX X. For example, the first X will be a Letter from A through L. A = January through L = December. The center two digits are the day of the month. The final digit is the year the engine was made WITHIN the years that you narrowed it down to when you deciphered the Casting Numbers to the right.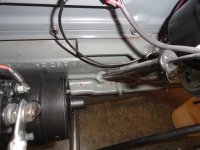 The next set of numbers you will find helpful are on the flat part of the Distributor Deck. This machined flat area has serial numbers stamped into it. If you have looked very carefully and find no numbers there, chances are your block is classified as a Replacement Block and will have no numbers stamped on that deck. The numbers you are looking for are stamped (about 1/4" high) and usually a Letter followed by three Numbers and ending in another Letter (or two). The first letter is almost always F since most GM engines were made in Flint, Michigan. The following numbers are the month first followed by the day of the month. The trailing letters denote what the engine was installed in. The possible Letters for the last ones are explained in the chart below.
On the flat part of the Distributor Deck you will find a stamped Serial Number. The first letter will be either
F
for Flint Michigan, or
T
for Tonowanda, New York. These were the two locations engines were manufactured at the time. The numbers behind the F (or T) designate the Calendar month and date the engine was produced. The remaining letters are in accordance to the Type and Series of the vehicle the engine came out of. This helps to tie the vehicle together with the engine. RPO's are Regular Production Orders. These standard Orders could include many variables and Chevrolet had several of them that were popular with the Dealers. Here is the Car and Truck listings for 1954-1962:
PASSENGER CAR ID
A - Regular Production with Standard 3 speed or Overdrive
AE - Regular with heavy duty clutch (1119-1519 taxi cab)
B - Regular with Powerglide (Hydraulic Lifters)
Z - Regular Engine
ZC - Regular Engine with HD Clutch
ZH - Fleet - Aluminum Cam Gear
ZJ - Fleet - Aluminum Cam Gear and HD Clutch
Y - Automatic Transmission


TRUCK ID (all Solid Lifter Engines)
J - 3100-3200-3800/CK 10-20, C30 Regular Production
JA - CK 10-20, C30 with RPO 311
JB - C10-20 with RPO 311
JC - 4000 (31-32-36-3800 RPO 227)/C40 CK 10-20, C30 RPO 223
JD - CK10-20, C30-40 with RPO 225 (HD Clutch)
JE - C1402 with RPO 232
JF - 31-32-36-38-41-4400 with RPO's 314 & 321
JG - P10 Base Engine
JH - P10 with RPO 311
JK - P10 with RPO 223
K - 34-35-3700/P20-30
KA - 34-35-3700 with RPO 321/P20-30 with RPO 321
L - 6000/CLS50
LA - CS50 with RPO 225
LB - CLS60
LC - 6000 with RPO 309/CS60 with RPO 225
LD - 6000 with RPO 413/CL60 with RPO 413 & 585
LE - 6000 with RPO 413 & 309/CLS60 with RPO 350
LF - T60 Base Engine
LG - T60 with RPO 350
LJ - CLS60 with RPO 309
LK - CLS60 with RPO 350 and Powermatic
LM - C60 with RPO 413 & 585 and Powermatic
LU - CLS60 with RPO 223
LV - CS60 with RPO 225 and HD Clutch
LW - CLS60 with RPO 223 and Power Steering
LX - CL60 with RPO 223 and Air Brakes
LY - T60 with RPO 223
LZ - T60 with RPO 223 and Power Steering
M - 31-32-36-3800-4000/CK10-20, C30-40 with RPO 408
MA - 31-32-36-38-41-4400 with RPO 314,321 & 408
MB - 31-32-36-38-4000 with RPO 227 & 408/CK10-20, C30-40(RPO 409)
N - 5000 Regular Production/L50 with RPO 408
NA - 5000 with RPO 309/L60 with RPO 408
NC - 5000 with RPO 413
ND - 5000 with RPO 309 & 413/T60 with RPO 408
P - 6000 with RPO 408/C50-S50 with RPO 408
PA - 6000 with RPO's 309 & 408/C60-S60 with RPO 408
PB - C50-S50 with RPO 409
PC - 6000 with RPO 408 & 413/C60-S60 with RPO 409
PD - 6000 with RPO 309, 408 & 413
PJ - C60 with RPO 223 & 418
PK - C60 with RPO 223, 408, 413-585
PL - C60 with RPO 223, 408, 413-585
PM - L60 with RPO 223 & 408
PN - L60 with RPO 223 & 418
PQ - L60 with RPO 223, 408 & 413-585
PR - L60 with RPO 223, 408 & 413-585
PS - T60 with RPO 223 & 408
R - 7000 Regular Production (5000 with RPO 418)
RA - 7000 with RPO 309 (5000 with RPO's 309 & 418)
RC - 5-7000 with RPO's 413 & 585
RD - 5-7000 with RPO's 309, 413 & 585
S - 8000 Regular Production (6000 with RPO 418)
SA - 8000 with RPO 309 (6000 with RPO's 309 & 418)
SC - 6-8000 with RPO's 309, 413, 585
SD - 6-8000 with RPO's 413 & 585
T - 9000 Regular Production (7000 with RPO 385)
TA - 9000 with RPO 309
TB - M70-C70-S70-C80 with RPO 409
TC - T70-T80
TD - C-L-70-80-M-S-70 with RPO 309
TE - T70-80 with RPO 309
TF - CL70-80, MS70, S67 with RPO 385
U - 10000 Regular Production (excludes 10800)
UA - 10000 (excludes 8800-10800) with RPO 309
V - R10 Base Engine
VA - R10 with RPO 225
W - R10 with RPO 667
WA - R10 with RPO 225 and Automatic Transmission