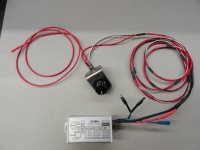 This is a GIANT breakthrough for us Vintage Vehicle Enthusiasts! Until now, you had to get an aftermarket rotary heater switch that gave you three positions (Low, Medium, High) and the switch is not all that great of quality. Stock Switches are rare and get really HOT when converting to 12 Volts. This system is designed to give you FULL LINEAR CONTROL of your Heater Motor. The included Stainless Steel Bracket holds a Potentiometer with a very solid 1-1/2" knob. Full Counter-Clockwise position turns the system off with a Click. The Motor Controller mounts anywhere you choose near the Heater out of sight. This solution puts off NO heat whatsoever yet gives you full control from 0 RPM to 3500 RPM (depending on your motor's top speed).
---
---
The entire instruction on how to build this yourself: Full Instruction
You can skip to the Installation Instructions Here: Installation Instructions

The build instruction contains everything you need. We encourage you to build it yourself, however, if you can't do it, email deve@speedprint.com and we will get this done for you. If you have any questions or concerns, we are here to help. Either email Deve, or go to DTN Forums and join in on the conversation.