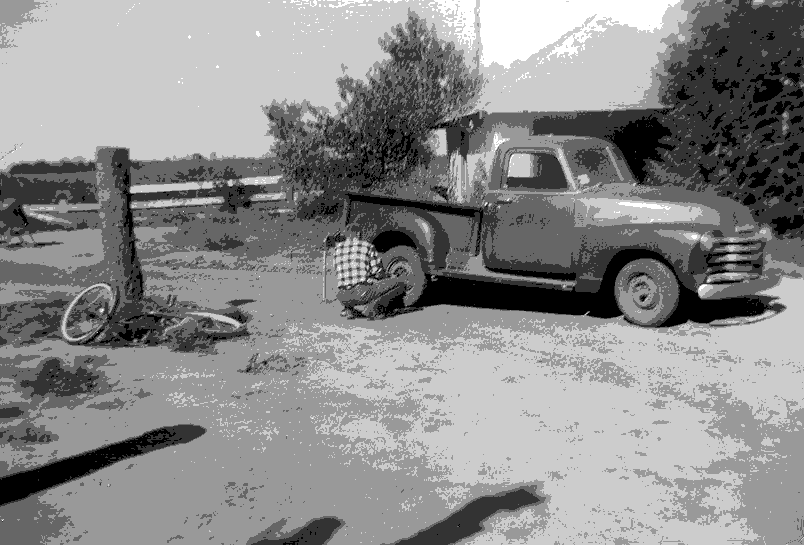 Chevrolet's radically different 1947 Advance Design light-duty trucks represented a sea change in pick-up truck design and appearance.
The nation was entering the exciting Post World War II era, and after four long years of war, the American people, especially the veterans, were looking forward to new opportunities in the world's greatest country.
There was no better way to put the past behind them and to look to the future than with new lines of America's favorite form of transportation: cars and light trucks. Post-war automobiles followed a little more than a year after the new trucks.
General Motors was the first manufacturer to release the new-look post-war trucks late in the 1947 model year as 1947 models. They were announced at Chevrolet dealer showrooms on Saturday, June 28, 1947.
A new, larger windshield, bigger side and rear window glass, and optional rear-quarter windows vastly improved safety and drivability. Higher and wider cab doors made entry and exit easier. Another new feature, which further contributed to driver comfort and safety, was a fresh-air heater/defroster system, which brought fresh outside air into the cab and forced used air out through vents at the rear of the cab.
There is so much that could be said about the new Chevrolet pickups that we could fill a small book. Truck engineers typically began development work on a new series by surveying truck users. Personal interviews with business owners revealed the number one concern with trucks was a larger, roomier cab with more comfortable seats and better vision. Please note that owner interviews at that time in history were held with business owners not with individuals who owned pickup trucks for transportation only. The cab of the Advance Design pickups was eight inches wider and seven inches longer than the previous model. By pickup standards, increases of this magnitude only happen once in a lifetime. The cab's new size allowed the engineers to fit it with a true three-person seat which was also fully adjustable in the front and rear on an inclined plane to provide maximum driver vision. The additional cab width and length caused the new pickups to look much bigger than the previous models.
Chevrolet engineers designed the new cab's construction to be entirely welded, as opposed to the older models, which were partially bolted together. Consequently, the new cab was much stronger and featured a three-point type of suspension, which contributed to a softer ride.
The line included three pickup truck types in the new Advance Design Series in three sizes: half-, 3/4-, and one-ton (models 3104, 3604 and 3804 respectively) with cargo boxes 78 inches, 87 inches and 108 inches long. All three boxes were 50 inches wide, 16 1/4 inches high on the sides and 14 inches high in the ends. The wheel bases were 116, 125 1/4 and 137 inches. For each model, the cargo box was shifted forward for better distribution of the load in relation to the rear axle and for better support by the frame rails. All pickups continued to be built with wooden cargo floors covered with steel skid strips.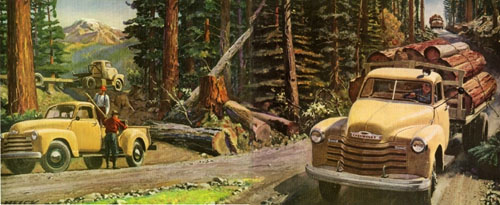 >
The Advance Design Pickup's Engine was a 90-horsepower, 174-ft-lb.-torque, 216.5-cubic-inch ThriftMaster OHV six cylinder. The half-ton and 3/4-ton pickup's standard transmission was a three-speed; a four-speed was optional. Only the four-speed transmission was available for the one-ton.
In addition to pickups, the Advance Design light-duty trucks with body-line continued to include half and one-ton panels and canopy expresses, 3/4 and one-ton stake trucks, the Carryall Suburban and the automobile based on the Sedan Delivery.
Advance Design Pickups continued through 1953 with only minor engineering and styling upgrades. For example, in 1948, the four-speed transmission's gear shift lever was moved to the steering column from the floor and the parking brake was changed from a floor mounted lever to a foot actuated pedal on the driver's far left. These changes cleared the floor of obstructions for the convenience and comfort of the passenger seated in the middle. The former four-speed spur-type transmission was changed to a synchromesh unit to eliminate double clutching.
In 1949, the gas tank was moved to inside the cab behind the seat back. In 1950, the 216.5 cubic inch six-cylinder engine was tweaked to put out 92 horsepower at 3400 rpm and 176 ft-lb. of torque at 1000 to 2000 rpm. In 1951, the left-side cowl vent was eliminated, and was replaced by door vent windows. New push-button door handles were a 1952 model year introduction.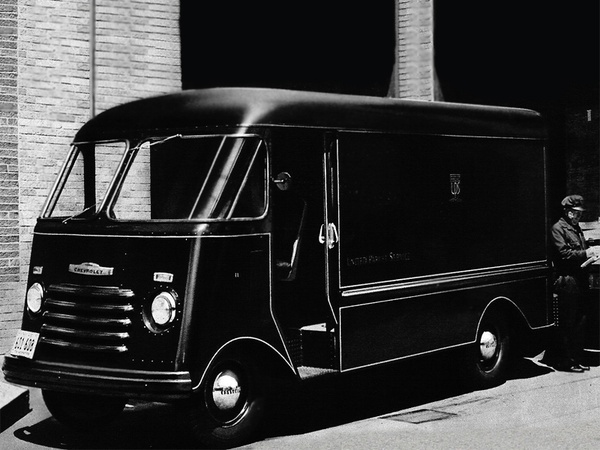 >
The first and only major Advance Design styling and engineering changes occurred with the 1954 models. These models featured a pleasing one-piece windshield, an all-new grille, new parking lights and a new steering wheel and instrument panel. Engineering advancements included the new standard 235.5-cubic-inch OHV six-cylinder engine producing 112 horsepower and 200 ft-lb. gross torque. The full automatic Hydra-Matic transmission became an option for light-duty trucks. These trucks continued into 1955 and remained on sale until March 25, 1955 when Chevrolet announced all-new Early V8 pickup trucks. Chevrolet pickups were number one in sales during every year of the Advance Design Era.


---
Identifying Changes By Year
(thanks Tom Caperton for this list!)
1947 Saturday June 28, 1947... GM introduced the new "Advance Design" (AD) truck. Gas tank mounted under the bed and fills through the hole in passenger side of the bed. 3-speed Tranny (non-synchromesh) is floor shift on all models - three and 4-speed alike. Doors have one-piece glass with no vent window, and door handles are turn-down type. Windshield is 2-piece. Hood side emblem says CHEVROLET and THRIFTMASTER. Cab 'corner windows' introduced for first time. Hand-operated emergency brake handle is located on the right-hand side of the floor shifter. Fresh air heater/defroster introduced. Radio available as an in-dash option for first time. Headliner center bow is screwed to roof of cab.
1948 Shifter for tranny moved to the column ("three on the tree"), and the synchromesh transmission was introduced. Emergency brake moved to far left side of steering column and was changed to a foot-operated mechanism. 1947 and 1948 models had red needles on the gauges.
1949 Hood side emblems now have CHEVROLET along with the series designation (3100, 3600, etc.) THRIFTMASTER on hood side emblems discontinued. Gas tank moved to inside the cab behind seat. Mid-year 1949, cab wind-lace goes from black to gray/tan and slides into track. Headliner center bow is changed to "floating" type and not screwed to roof of cab as before.
1950 Lever-action shocks are replaced by modern tubular shocks. This is the last year for the driver-side vent. Handle for side cowl vent is flat steel, not maroon plastic as it was previously. Wiper knob is chrome plated steel.
1951 One-piece door glass gives way to two-piece glass with vent windows. During the year, Chevy changed the bed from a 9-board to an 8-board pattern. Front bumper was standard, and rear bumper was an option. Only top cowl vent offered; driver-side vent discontinued. Only year with vent windows AND pull-down exterior door handles. Last year for chrome inside window handle knobs and chrome wiper knob.
1952 Exterior door handles are now push button type. Speedometer changed from a max of 80 mph to 90 mph. Half way through the year, GM stopped using 3100, 3600, 3800 emblems on side of hood whereas CHEVROLET kept them all year. No rear bumper offered. Horizontal strips below and above radio speaker grille plus glove box door changes to painted steel and not stainless steel as in previous years. Hubcaps change from chrome to gray painted steel with black block letters, but stamping and shape remain the same as prior years. Bumpers are no longer chrome, but gray painted steel.

1953 Last year for the 216 cubic inch engine. Hood front emblem now stainless steel, and hood side emblems lose the CHEVROLET but keep the series numbers (3100, 3600, etc.) First year a side-mounted spare is offered as an option. Rear bumper reintroduced. Last year for wood blocks under bed. Wiper knob is maroon plastic, as in 1952. First year for blue and silver ID door plate (prior years were black and silver.)
1954 High-pressure 235 cubic inch 112-horsepower engine introduced for pickups, and 261 ci engine introduced for larger trucks. Hubcaps are same shape as previous models, but now have only the "Bowtie" emblem. Old horizontal grille gives way to new bull-nose grille. First year for parking lights... introduced with new grille. The two-piece windshield is replaced with modern one-piece curved glass. Dash instruments and steering wheel changed to modern design. Bed redesigned, and top rails are now flat, not sloped like previous models. Taillights are now round. Rear bumper now has "notch" in center for license plate. Hydra-Matic transmission available in trucks for first time. Two-tone cabs available for first time as an option, but only with white top and only on more deluxe cabs. Full wheel covers now available as an option.
1955 First year for open drive shaft on pickup and panel truck. Final year for 6-volt system.
Notes:
1947-50 trucks had standard chrome bumpers on front and rear.
1947-49 trucks had large fuse block on firewall.
1947-50 trucks had driver-side vent.
1947-49 trucks had lever-action shocks.
1947 to mid-year 1949, cab opening wind-lace seal attached to cab with a metal retainer. Mid-year 1949, GM installed a track with a new style wind-lace that slid into the track.
With 1955 and earlier trucks, the raised letters on the tailgate were not a contrasting color, but were body color. Bed planks were hard yellow pine, and were painted black.
Prior to 1955, dark green was the standard paint color, with other colors being available as a non-cost option.
During 1947-48, the Chevrolet painted grille bars and "back splash" bars were body color. In addition, the leading edge of each painted outer bar had a horizontal stripe matching the cab stripe. On the 1949-51 Chevrolet, with a painted grille, the "back splash" bar was white. In 1952-53 this changed to light gray to match hubcaps and bumpers. On chrome grilles, only the outer bar was plated. The "back splash" bar was as the painted grille.