Vintage Chevy
Restoration How-To Index
This is really the fun stuff!
What it's all about. Networking with others to find solutions to problems from the seemingly simple to the very difficult is a very important aspect of what we do. The solutions listed on this page are from all over the world and collaborated on by many.
One person makes a cart to move his cab around out of a few 2 by 4's, the next guy sees it and says.. we could put wheels on that cart, the next guy says, how about putting a high rise pedestal on it so we can use it in the paint booth, another says, we should make it out of metal so it doesn't deteriorate from the wet sanding, another says, we need to put LARGE wheels and a removable trailer hitch on it so I can use my lawnmower to pull it out into the back 40 for sandblasting, etc.
This is how great solutions are achieved. Each of the guys above may have been on different web sites and saw a piece of the puzzle, or thought of it on their own. Here, we try to put these things together to make extraordinary solutions. If we all stop by TechNet we can add a new dimension to this phenomena, Criteria! In the above example, 40 carts were made before the really good one was introduced. Here, we discuss something we call Solution Criteria for each new invention or solution and cut to the chase with much less effort. You will find that philosophy in action on TechNet. Enjoy!
Engine Related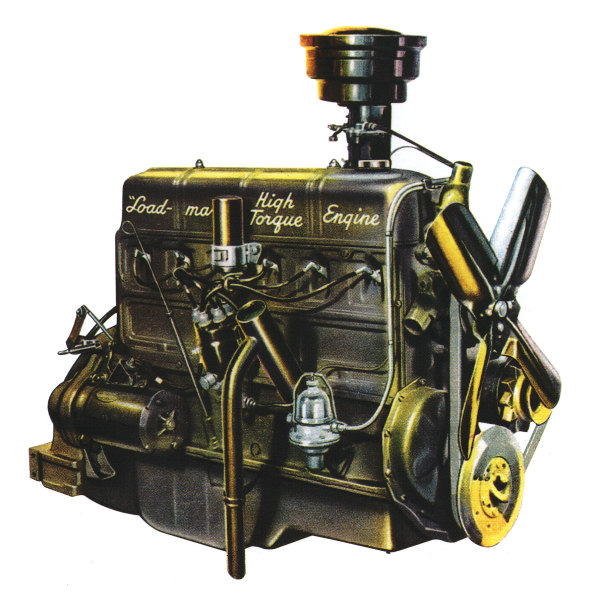 Engine Rebuilding Checklist. This is a very comprehensive form approved by the Automotive Engine Re-builders Association to help you make sure you have caught every aspect of the rebuild.

GM Engine Casting Numbers. Not sure what engine is in your truck? This list should tell you the exact year, make and displacement of your engine.

216/235/261 Head Torque Specifications. This is a nice tightening sequence chart for your 216/235/261 engines.

Valve Oiler Pipe Instruction for 216 Engine. A diagram for the 216 re-builder to better understand the valve oiler pipe and how its routed.

Advance Design Fuel Filter Placement. You might be scratching your head as to where you are supposed to put that nice shiny new glass fuel filter with the stock Horn in the way! No more!

Advance Design Air Filter Options. Nice to know there are two different types of Air Filtration systems available and both are 100% stock.

Installing a PCV System on a 216/235/261 Engine. Tired of that road draft tube dripping on your precious concrete? This inexpensive solution has the added benefit of keeping your engine running better, longer.

Installing a Full Flow Oil Filter System on a 235/261 Engine. This is a very nice way to get a full flow oil filter system to improve engine longevity.

Fuel System Revelations!. We did some deep diving into Fuel Systems, how they work, and what you can do to enhance yours. DTN is your first resource for AutoPrime!

216/235/261 Engine Timing Procedure by Jeff Pohlar. This is probably the best Timing Procedure I have run across. Very easy to understand, and it works flawlessly.

216/235/261 Engine Timing Tips by Dave Folsom and Deve. This is a compilation of frequently asked questions and how to better understand your Stovebolt's Timing.

Tuning Up The Old GM 6 Cylinder by Nathan Hall. We added lots of material here since we began including a slide show direct from GM. Then, Nate is amazing in his ability to explain in detail how to wake up your sluggish engine and give it the pep it once had or get your new engine timed for initial run-up. Then, we also included NEW BONUS MATERIAL:Testing Your Compression!

216/235/261 Valve Adjustment Procedures by Nathan Hall and Jeff Pohlar. These procedures cover both solid lifters and hydraulic lifters very well written and explained in detail.

V8 Juice For Your Stovebolt (1950 3100). An article that was first printed in February of 1977 Street Rodder.

The Venerable 261! This is a great read if you have or are contemplating a 261 for your project.

Rebuilding the Rochester B Carburetor. Watch how GM technicians did it back in the day or check out the step-by-step.

HEI for your Stock Dizzy. Some of the industries best have been helping with this. It has been fully tested and we are in the process of creating kits for our friends! Stay tuned!

Rebuilding the Stock Distributor/The Stock Ignition System. GM did a great job on the stock Ignition system. Here we try to take some of the mystery out of it. If that doesn't work, we let GM tell the story!

Rebuilding a 1959 235 Engine. This article takes you through the entire process from tearing down your engine to rebuilding every sub-system and finishing with the proper break-in procedure. It is 100% complete!

Making Your Own Stainless Steel Dipstick Tube. Adding Bling to your engine is easier than you think. This very easy operation will give you a chance to understand your oil measurement system and add value to your project.

Alternate Location for the Ignition Ballast Resistor or HEI Module. If you are worried about hot Ballast Resistors damaging your paint, or just want a cool place to put your HEI module, check this out!

Mounting your original Air Filter Cannister on your Newer Style Carb. If you have a newer 235/261 and the newer Carb, but want to put the old style Air Filter Cannister on it, this mod is for you!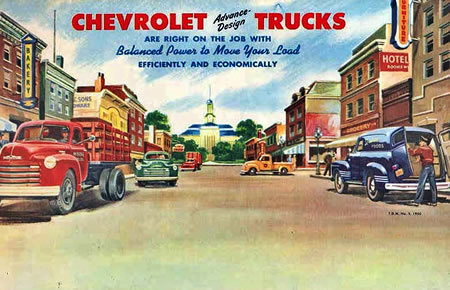 Shop Helpers, Jigs and Related
Misc. Fastener Information. This is a pretty comprehensive look at Bolt Markings, Bolt Head Dimensions, and Bolt Tension and Clamping and their meanings. The proper strength of bolt for the job is really important. I will be appending this document as I get further information.

Deve's Sandblasting Tips, Tricks and Links. Nasty work sandblasting, but someone has to do it! Hopefully this helps make it a little easier.

Making an Engine Cart for GM 6's. These little carts will hold an Engine with Bell-housing and even transmission attached. The idea is to make it easy to roll these heavy buggers around your shop!

Making a Shop Roller Stand. Or two! These roller stands are really handy when cutting long materials on any saw or drill press. Very stout right down to the ball bearings!

Making a Frame Rotisserie for 1947-1955 AD Pickups. One of the most useful items in my shop is this really stout frame rotisserie made from two Engine Stands. Works great for all the steps in the frame-up process.

Making a Body Shop SuperJig. Another very useful shop tool that I use for a lot of the restoration process. And best of all it was fun to build! Check it out and tell me what you think!

Making a Start Kart. Inspired by the Medical Crash Carts they use for heart attack victims, this all-in-one Cart has everything you need on board to troubleshoot both fuel system and electrical system issues. You need one of these!

More to come...

Sandblasting Small Parts Machine
Charts and Graphs
Vintage GM 6 Cylinder Engine Stand on Steroids
Unique Welding Table
Tables for Just About Anything
Garage Paint Booth on a Budget


Join the discussion in our Forums!