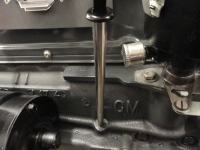 Stainless Steel is very popular for good reason. It will not rust or discolor and can be shined up to look as good as Chrome. The dipstick tube is often overlooked and it's a really inexpensive project.
---
---
The entire picture gallery can be found here: Picture Gallery
The entire instruction on how to build this yourself: Instruction Document

The build instruction contains everything you need. We encourage you to build it yourself, however, if you can't do it, email deve@speedprint.com and we will get this done for you. If you have any questions or concerns, we are here to help. Either email Deve, or go to DTN Forums and join in on the conversation.