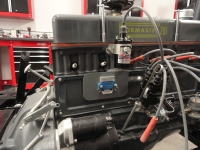 This mounting plate allows you to put your Ignition Ballast Resistor or HEI Computer near the Coil and Distributor on the engine instead of on the firewall. It uses the Coil Mounting Bracket holes and bolts on with your existing hardware.
---
---
The entire instruction on how to build this yourself: Instruction Document

The build instruction contains everything you need. We encourage you to build it yourself, however, if you can't do it, email deve@speedprint.com and we will get this done for you. If you have any questions or concerns, we are here to help. Either email Deve, or go to DTN Forums and join in on the conversation.