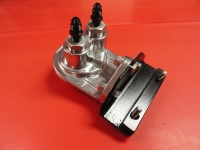 This new adapter solves a few problems. First, it is mounted on the engine so there are no external forces pulling/pushing on the soft lines. Secondly, it can be mounted on any two Oil Pan mounting screws so it can be moved to several locations making it perfect for dual exhaust engines or engines with longer generators or shorter alternators. This is really the best solution for this vintage engine.
---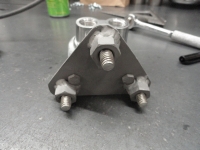 This adapter works flawlessly with the stock exhaust system on a 1952-1962 engines with the three bolt mounting pattern on each side. If you have headers, measure first to ensure you have the space available. We even have a solution for that!
---
This adapter works with the Fenton dual exhaust or with a stock system using an Alternator. You need to use the alternator because of the available space. Special thanks to Grigg and Cosmo for the idea!
---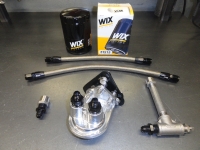 Kits are now available! We let you choose the adapter (above) of your choice, then we add stainless braided pressure hose and all of the necessary fittings. The 4" Pipe and Tee are to get around your exhaust efficiently. It even comes with oil pressure gauge hookup! All pipe, tee and adapters are stainless steel with the exception of the AN fittings which are black anodized aluminum.
---
---
The entire instruction on how to build this yourself: Instruction Document

The build instruction contains everything you need. We encourage you to build it yourself, however, if you can't do it, email deve@speedprint.com and we will get this done for you. If you have any questions or concerns, we are here to help. Either email Deve, or go to DTN Forums and join in on the conversation.