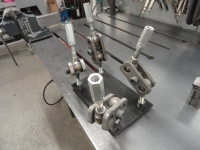 Accessories is sort of our catch-all. The Super Jig has many accessories that are available. From wheel painting spinners that allow you to spin your wheels while painting on the SuperJig to extra turnbuckles for your welding table, or just about anything you see on our website, we are always happy to share with our fellow restorers.

Our shop picture gallery can be found here: Shop Picture Gallery
Accessories Plans can be found here: Accessories Plans [not yet]

There are build instructions for many of our add-ons, so if you can't find what you are looking for, just let us know. We encourage you to build it yourself, however, if you can't do it, email deve@speedprint.com and we will get this built for you. If you have any questions or concerns, we are here to help. Either email Deve, or go to forums.devestechnet.com and join in on the conversation.