---
Free Ads for our Friends
If your Ad is not here, email
Deve
---
Brad Allen's Slideshow Project
I don't know how he does it, but my friend Brad Allen has put together some very rare footage of our precious Advance Design trucks and allowed us to present them to you. You will find these slide-shows throughout the site. Some of them are very instructional and all of them are quite interesting! I hope you have as much fun watching as I do!

SLIDES COURTESY OF BRAD ALLEN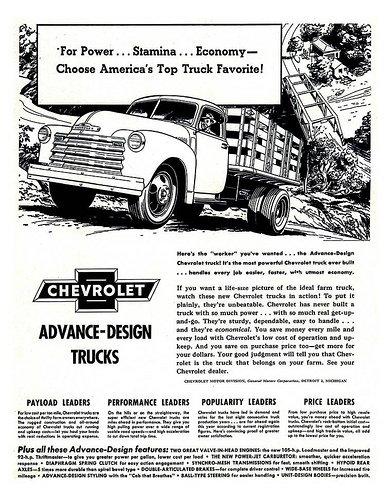 Project: 1959 235 Engine Rebuild!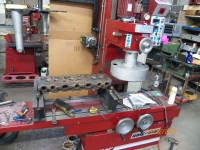 The idea was to explain in detail the steps it takes to properly rebuild a 1959 235 6 Cylinder Engine. From start to finish, this article goes through every aspect of a rebuild, from tear-down, to the engine shops work, to rebuilding each subsystem, right through to engine adjustment and run-up. This article was completed in the Summer of 2015 with really great results. If you have engine questions, there is a distinct possibility the answers are in this article.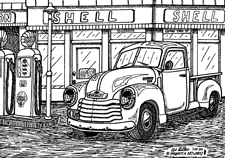 Important Announcement!!
1947-1955 Advance Design Full Restoration Manual!
and...
Chevy 216/235/261 Stovebolt Engine Manual!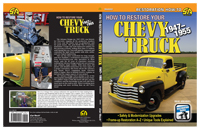 After the success of the Engine Manual (described below), Cartech Inc®, asked me awhile back to create a comprehensive full restoration manual for the Advance Design (1947-1955) Chevy Trucks. This complete manual should answer the many questions pertaining to this particular vintage from the very start of your project to the very end. Covering mild (bolt in) modifications like front disc brakes/dual master cylinder, overdrive transmission, shop fixtures and jigs, painting and full restoration of every sub-system, this manual has been written for everyone embarking on this journey. Available Now!
---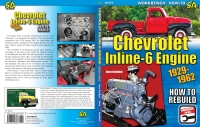 Cartech Inc®, the company who is well known for its exceptional quality Automotive Instruction Books and Manuals asked me awhile back to create an Engine manual for our precious vintage Chevy 6 Cylinders. After doing the research, checking the facts, taking the many pictures and then writing about it, the book is finished and available NOW! It has a lot of my web content in it, but I also added more. What is nice about the book is, it is strictly devoted to our Stovebolt engines. This makes it easier to navigate. In it, you will find definitive instructions on how to do a complete rebuild, learn more about High Energy Ignition, PCV, Oil Filtration, How to make handy tools for the job and much more. Please tell your friends about it on all the forums and mailing lists or any other way you communicate. Available now!
---
These books are also available for sale right now on Amazon and world wide. Amazon at Amazon.com. There are also International booksellers available for Europe and Australia. In Australia, go to: National Library of Australia. In Europe go to: Publishers Group UK.
This has been a labor of love and I was very honored to be asked to do this. Please let me know how you feel about the books, or to report any errors in the books by going to:

216/235/261 Engine Book: TechNet Forums!.
Advance Design Full Restoration Book: TechNet Forums!.
Yet Another New Project/Product Alert!!
Announcing AutoPrime!!
This is truly another Deve's Technet Original.
A product made specifically for Vintage Vehicles that brings a very important capability to the table that was not previously available. Here is the narrative...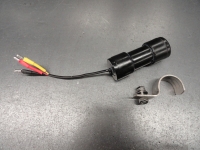 Most of us do not drive our vintage vehicles daily, so after they sit awhile, the fuel in the Carburetors Fuel Bowl has evaporated sufficiently that it takes more time in cranking to get it started. The vehicle should start immediately no matter how long it has been sitting within reason. Introducing AutoPrime.. a circuit that enables the Carburetors Fuel Bowl to fill up prior to cranking. To find out more, check out this How-To Article. This article is full of new information and testing that should really shed some light on how the Fuel System works and how it can be improved. Great for Marine applications too!
Here is the How-To Document so you can make this yourself:
The Projects Master How-to Document
The Farm-It-Out Purchasing Page is here:
Farm-It-Out AutoPrime Intro
New Project/Product Alert!
Announcing The Critical Information System!
This is truly a Deve's Technet Original.
A product made specifically for Vintage Vehicles that brings a very important capability to the table that was not previously available. Now updated and considerably improved. Now using Wire Loom and high quality locking connectors. In addition, all audio buzzers are inside the case. A much easier installation. Here is the narrative...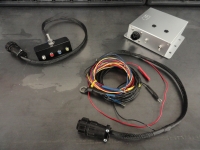 This system monitors your most critical systems on your vintage vehicle in a similar way your modern vehicles take for granted. This system is a proper Redundant backup system for your gauges providing you with bright LED lights that alert you of a catastrophic failure. But we didn't stop there! We also provided an Audible Alarm for the most two important systems, water temperature and oil pressure. Rather than scanning your gauges and hoping you catch the failure in time, let the vehicle tell YOU when it needs urgent attention! Not convinced?
Most of our vintage vehicles have external oil lines for connecting external oil filter cannisters, the mechanical oil pressure gauge, etc. These rubber hoses tend to dry rot over time. If you were driving down the road at normal speed and a hose were to break, you are spewing motor oil all over the highway at a rate of about 15 seconds per quart. This gives you about 90 seconds to shut down the motor and coast to a stop. That is not after you SEE it, it's right away! Hopefully you stare at your oil pressure gauge all the time. We all know better of course. You have the responsibility of driving to contend with.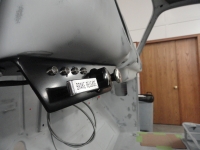 This system is a fully redundant backup system for your gauges meaning it uses no part of the current gauge system. This gives you the peace of mind in knowing when an Audible alarm sounds PROMPTING you to look at the gauges, the answer will become immediately clear. Engine Rebuilding is a very expensive and involved process and in our local area, the cost is at least $3,000 not including the inconvenience. Protect your investment! With the cost being about 20% of that, this easy to install system will give you the peace of mind to actually enjoy your Vintage Ride!
List of Critical Systems Covered
Engine Oil Pressure - If your engine oil pressure falls below 6 PSI, an Audible Alarm sounds and a Red LED Light Illuminates. The Kit includes everything you need including a 1/8" NPT Tee Connector and a carefully chosen Oil Pressure sensor that also allows you to hook up an Hour Meter if you choose.
Engine Water Temperature - If your engine water temperature rises above 210 degrees(F) an Audible Alarm sounds and a Blue LED Light Illuminates. This is also adjustable so if you would prefer a lower or higher temperature before the alarm sounds, you can do so.
Engine Alternator Charging System - If your Alternator is not charging properly, a White LED Illuminates. This system requires a 3 wire Alternator to work. This is because it uses the Alternators Warning Circuit to squelch the Oil Pressure Alarm when the Ignition is turned on but the engine is not running.
Low Fuel Warning - This fully adjustable circuit will allow you to choose when you want a Low Fuel LED (Amber) to Illuminate. Since some folks live 30 miles from the nearest gas station, we made the Low Fuel Warning adjustable from a Half Tank to Empty so you can choose when you would like to have this light come on.
Check out our 35 minute video demonstration: Critical Information System: The MOVIE!
Here is the How-To Document so you can make this yourself: The Projects Master How-to Document
The Farm-It-Out Purchasing Page is here: Farm-It-Out CIS Intro
Here are the Installation Instructions: Kit Installation and Troubleshooting Guide
Feature Article: The GM HEI System Explained!
I was trying to help someone the other day in explaining the advantages of HEI, but it always makes me feel like I am being self serving since I designed one specifically for our engines that uses your stock Distributor and works just as GM designed it. So, I searched the Internet looking for a decent, very accurate article and found the perfect one. Here it is from one of the most respected resources out there:
One of the other issues that I get asked a lot is "What is the difference between GM HEI and Pertronix?" Despite what the advertisements for Pertronix say, the units they sell are strictly 'Points Replacement' units. They have no artificial intelligence behind them. Pertronix units go inside the Distributor and replace the Points and Condenser. They are a great low-budget solution and they work very well. They are easy to install and they really do the job for which they were intended very well. I have heard very few complaints about them. They are popular because they are relatively inexpensive, remove the points and condenser from the equation replacing them with no moving parts to wear out, and another reason to like them is they take away the dwell issues of Points and the problem of Jitter caused from the Distributor shaft wear over time. Your engine WILL run better with a Pertronix unit instead of Points.
The difference between Pertronix and GM HEI is yet even greater! GM HEI has artificial intelligence that makes it leaps and bounds better from a logical perspective. The GM HEI has an Electronic Ignition Module. This Module, although quaint by today's standards, was the grandfather of our modern electronic control modules which are considered on-board computer systems. The GM HEI Module gives the system its ability to self adjust the dwell based on Engine RPM. Its secondary function is to speed up dramatically the ramp and fire circuit to 3.6 milliseconds which enabled much faster coil response. What this means is, we can use hotter coils since we are no longer limited to 12,000 volts, which is about the maximum a points system has time for in one complete cycle. This means a more complete burn of leaner fuel mixtures. It also has a current control circuit that keeps the amperage of the entire ignition system down to 5.5 amps.
Aside from the above, the GM HEI System removed the resistor circuit from the mix. This means no more reducing the points and condenser down to 6 volts which was the practice right up until GM HEI was introduced in 1975. The Resistor Circuit is what that big paint melting ballast resistor that is on your firewall was used for. By transferring half of the available power to heat, Delco was able to keep the 6 volt production line going clear into the 1970's! The GM HEI system uses no resistors and with transistorized current control, as stated earlier, keeps the current limited to 5.5 amps. In fact, it craves the full 12 volts of power and is much happier with a 45,000 volt, .7 ohm coil with the spark plugs gapped to .045. as stated in the above article, it really is a very well engineered system. So, no matter where you get your GM HEI System, plan on a much more precise and much hotter spark, extra power in 3rd or 4th gear, and a much happier Engine!
Project: High Energy Ignition Plus!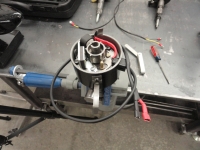 The Plus is, we use the Stock Distributor you already have! To make it even better, we make no permanent modifications to your vintage distributor. The GM HEI system is well known for its hotter spark, more efficient burn of today's gas formulas, and a cleaner, smoother running engine. As our friend, Jim Linder, a renowned Ignition Specialist puts it: "The HEI as built by GM could very well be the best overall ignition system out there ever. It has a varying dwell based on engine RPM and a ramp and fire circuit using 3.6 ms and 5.5 amps output with current control." If you have converted to a 12 volt system, you are on your way! Check out the fuel mileage tests and all of the particulars! Very exciting!

KITS AVAILABLE NOW!!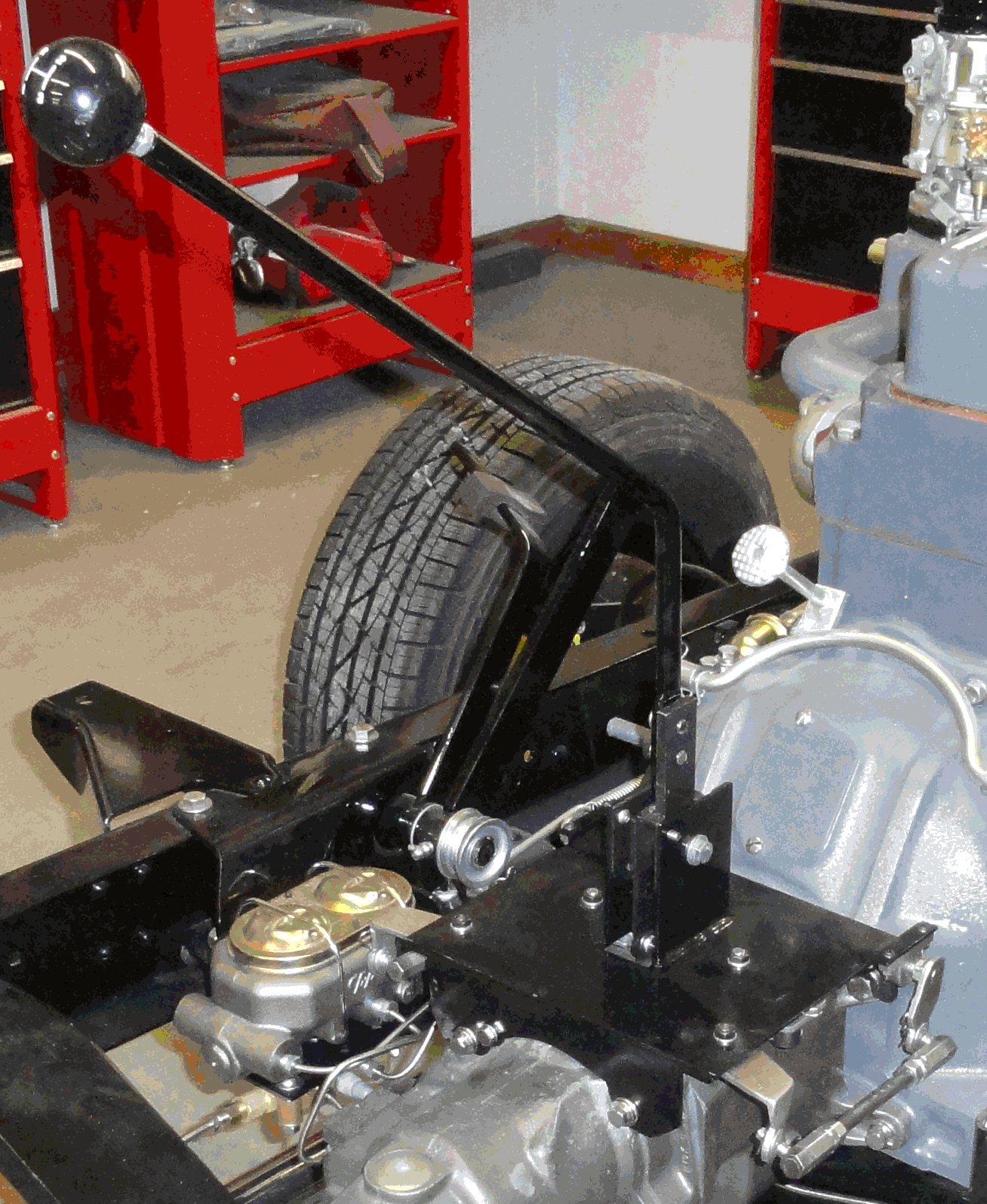 Project: 3 on the Floor!
Grandma always had a 3 on the Tree in her grocery getter, but Grandpa drove real trucks so he went with 4 on the floor! In our Feature Article we will show a brand new solution that puts the 3 speed shifter exactly where the original 4 speed comes up out of the floor making the truck look like a stock 4 speed. It may not be the Higgs Boson, but it really revolutionizes the way we look at the vintage 3 speed transmission...

12 Volt Heater Restoration Project!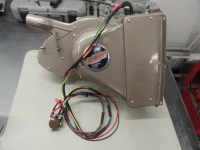 The Heater System in these trucks can be one of the most neglected systems both from a maintenance and an engineering perspective. If you have upgraded to a 12 volt power system, it may very well need some TLC before firing up the heat for the Winter.

If you want to know more about your Heater System and how to stay warm and toasty without worry, check out the article and join the discussion in The Think Tank!